Personality begins where comparison ends – Karl Lagerfeld
As a business, how many times have you looked at your competition and tried to set yourself apart? We do it all the time; we see an ad in a magazine, a commercial on TV and think "Oh, that's good. We should do something like that." The trouble is, we are constantly striving to be like the competition. If we take a step back, we will find that harnessing what makes us unique is what will set us apart. Finding our distinct personality and letting it shine will help our business soar.
The Five Peaks Capital Group is a financial group that focuses on wealth management strategies. They were seeking to improve their presence in the Rocky Mountain region, deepen their company brand and showcase their expertise in a different way. The Serff Creative team went to work by looking for the traits of their unique personality and figured out how to effectively enhance and communicate them to their clients.
Jill Lewis at Integrated Writing strategically developed the content and messaging. She zeroed in on the companies strengths and highlighted their services to speak directly to their ideal client. The written content encompassed their services in a succinct and powerful way.
Nothing speaks more quickly to a prospective client than visual branding. We were able to gain exclusive access to a Denver rooftop with a stellar view of their downtown location, and the unmistakable Union Station sign in the background. Our longtime partner Randy Parietti with William Swartz Photography used this background to capture timeless headshots of the Five Peaks team. These photos tell the story of the roots of the company and celebrate the future of their new offices that points to where they're headed!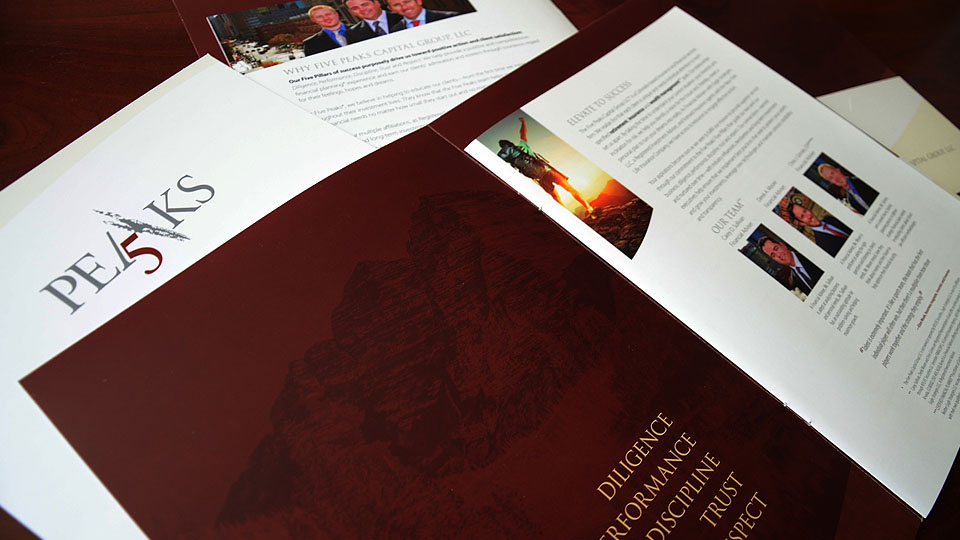 With the definitive messaging and distinguished photos in place, it was time to pull it all together. We created a pocket folder to hold the developed Five Peaks brand. These are personally handed to clients and confidently paints the picture of what makes them stand out from the rest.
Would you like to showcase what makes you unique?